For the well-being of our employees – and the benefit of our customers – Quality Roofing Services, Toronto roofing company has an extensive safety training program. We provide ongoing training in classroom sessions to ensure our roofing professionals are up-to-date on the latest safety techniques and legislation.
Protecting the safety of our roofing professionals is the right thing to do. It's also good business because the implications of a workplace accident can extend to the home or business owner if the roofer is not fully insured. That's right. If an uninsured roofer is injured on your property, you could be held liable for damages.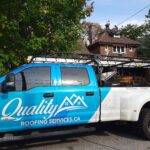 We facilitate a "safety first" work environment by conducting weekly safety meetings and monthly hands-on safety training. We are 100% committed to your safety as much as ours, and not only follow industry safety guidelines but enforce them.
Our knowledgeable and experienced crews are all trained to work on all of roofing systems we offer; and will install, repair or maintain your roof in the safest manner.
To ensure our clients are fully aware of safety concerns, we will review a preparation for roofing checklist and any additional specific safety concerns before their project begins.