Best Roofing Company in Toronto 🥇 Toronto Roofers | Roof Repair and Replacement
Quality Roofing Services ltd is trusted roofing company in Toronto – that you can trust on for quality workmanship, warranted materials and great communication all the way through from quote through to completion. From Roof Repair, , Roof Replacement in Toronto, Roofers in Toronto, Roofing Toronto, Shingle Roof replace, , Slate roofing, flat roofing, to all your residential roofing and commercial roof repairs and  roof replacement – We are here to serve you with better quality roof replacement.
Roofers in Toronto? Roofing Company in Toronto?
Yes! Quality Roofing Services ltd is located in Toronto. For all your residential and commercial roof repair and  roof replacements, we are here to replace roofs on your property. Whether you want a facelift for your home that you are planning to sell or you are thinking of replacing an old roof in Toronto, we offer an array of durable roofing workmanship. Add value to your home with beautiful,  roofs.
We provide roof estimate for residential roofs, industrial roofs and commercial roofing needs. With time the roofing technology has changed and nowadays there are better, more durable long lasting roofs available in Toronto. All you need to do is to give us a call!!
We provide all aspects of roofing services in Toronto – residential flat roofing, shingle roofing, slate roofing, repairs and replacement – and guarantee you will receive the very best quality and workmanship for your roof replacement in Toronto.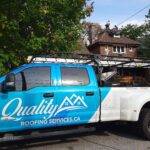 Quality Roofing Services in Toronto, flat roof and shingle roof
When it comes to roofing, pricing is a critical factor that you should never overlook. The task of maintaining and repairing your roof is not something that you will fancy. If you make the mistake of hiring the wrong roofer, you will be troubled with frequent roof repairs, and this is likely to cost you a fortune. That is why we insist of hiring quality roofers to install, repair and  replace
---
your residential and commercial roofs.