Toronto Roofing Experts
Qualified, Licensed and Insured Roofing Contractor in Toronto & GTA!
Local Toronto Roofers
Experienced roofing experts of Quality Roofing Services. We not oursourse!
5000+ Satisfied Customers
Till now we have got the lagest satisfied customers in Toronto and counting..
Toronto's Trusted Roofing Company & Contractors since 2005
We are specialized in property management, building maintenance and roofing services in Toronto and GTA.
We offer roofing services which include roof installation, inspection, repair and more in Toronto and GTA.
We are proving low-cost water leakage repair and maintenance services for your roof in Toronto and GTA.
Top Roofing Contractors & Experts in GTA
Quality Roofing Services Ltd. is Toronto's leading Roofing Company & Contractors, proudly serving Toronto and the GTA. Protecting homes and businesses since 2005, we are a Trusted Toronto Roofing company that has helped a vast array of clients with all of their most pressing roofing & many types of roof repair needs. Our clients, both past, and present have come to know our Roofers in Toronto as one that provides superior craftsmanship and long-lasting results. We offer our clients the benefit of experience, high-quality materials, and quick service for all sorts of residential, commercial and industrial projects. Our roofing professionals are dedicated to providing optimal Roofing Services for all of our valued clients across Toronto, the GTA and surrounding areas.

Quality Roofing Services is among Toronto's most Trusted Companies servicing Mississauga, Oakville, North York, Etobicoke, Thornhill, Scarborough and surrounding areas. We are a fully licensed and insured Roofing Company & Contractors. Our professionals are committed to providing the best quality roofing and flat roofing services for residential, commercial, roof repairs and building exterior throughout GTA. We specialize in new construction, shingle roof, flat roofs, cedar roof, tile roof, soffit-fascia, eavestrough, metal works, custom-made design.
We provide the best flat roofing services in Toronto and the GTA!
We are the Expert Roofing Contractors in Toronto!
At Quality Roofing Services, we offer all-encompassing Roofing Toronto services, including:

• Re-roofing - shingle, flat roof and cedar roof (full roof replacement)
• Roof repair - including fixing emergency roof leaks
• Ice dam repairs
• Gutter cleaning, repair, and replacement
• Soffits and fascia installation and repair
• Siding repair and replacement
• Skylights repair and replacement
• New construction - shingle, flat, cedar, slat
• Inspection and preventative maintenance
• Commercial, industrial, and residential services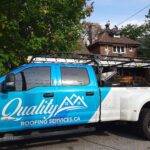 Why Choose Us?
Commercial, industrial, and residential clients have come to rely on the professional help of Quality Roofing Services for over a decade. Here are just some of the reasons why our clients have chosen and trusted us to take care of their roofs, and why you should too:

• We're fully licensed and insured;
• Our team consists only of in-house, professionally-trained local roofing experts;
• We are fully equipped with all the necessary and most innovative tools and equipment needed to ensure optimal results;
• We're heavily experienced with a track record of over a decade handling roof installations, repairs, and maintenance.

Looking for the most reliable and cost-effective roofing company & contractors in Toronto and GTA?
If so, Quality Roofing Services is your go-to source for all roofing jobs, large and small. Whether you're considering a new installation or are in dire need of emergency services to deal with a leaky roof, we are here for you.
Take a look at our extensive portfolio to gain some insight into our impeccable roofing services in Toronto the GTA, and call us today for a consultation and estimate!
Testimonials
Over the years, we have successfully served more than 5000 customers in GTA and still counting! We have earned the trust of these customers with quality residential and commercial roofing services. Go through what the customers have to say about our roofing services.
"They came quickly and made the repair to out leaky skylight. He was quick and professional. After attempting to fix our eaves which was falling off on one side from our 3 story house he deemed that wasn't safe. We are very close to our neighbors and the ladder had to be basically vertical. Knowing it was 2 man job they came back while we were out of town and made their repair at no extra fee. I will definitely be using Quality Roofing again!!!"
Sadaf Kh.
"Aryan came to see the roof damage of my house and was very professional. He inspected the damaged roof and made temporary repair to it. He also suggested that the entire roof needs to be changed and the time to that same is in the summer. I will be contacting him again as he looked to be a person who knows his stuff and very professional. I would recommend him to anyone who is looking to do any roofing work at their property."
Sain Amritpal Singh
"My name is AmryAnne. I called Quality roofing from a sign on a nighbours yard when I had a leak coming from my attic. Aryan came within 20 minutes to offer a free quote. They showed me a video of several spots a raccoon tried to break into my attic. They were very fast efficient and much less in price than I expected. They fixed my roof and didn't try to rip me off by selling me a new roof when it could be repaired. They were extremely knowledgeable and set my mind at rest. I plan to call them when my roof is ready for restoring. Very efficient and polite."
Maryanne Heard