Toronto Roofers | Roofing Company in Toronto| Roof Repair & roof Replacement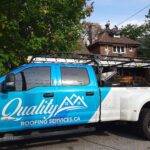 Looking for roof repairs and roof replacement services in Toronto? Look no further because Quality Roofing Services ltd is here at your service. We offer  quality roof replacement for your homes roofs. We do both residential roofing and commercial roofing in Toronto.
Our team of experienced roofers in Toronto are ready to roof repair, roof replace & Shingle Roofs, Flat Roofs, Cedar Roofs, Metal Roofs, If you are in need of flat roof replacement in Toronto, you need to make sure that you go with an expert flat roofers to get the job done right, changing a roof by a new roofing contractor can cost you allots of money as roofing is not a type of work to learn within just 2 to 5 years, so make sure your roofing contractor has the right knowledge to finish the roof replacement with high quality workmanship that can provide you at least 10 years of warranty.
Roofers in North York | Roofing companies in Toronto.
We have many years of experience in the building industry and can find the right solution for any commercial, industrial or residential roofing requirements. Our qualified team can look after your roofing needs because we specialize in all aspects of residential & commercial roofing and can offer you quality workmanship and peace of mind. Call us today for your roof replacement in Toronto!
We are committed to providing a high standard of roofing services, that you would expect — through unbeatable flat roof service, shingle roof services, cedar roof services, slate roof service, repair and replacement along with high quality materials and great roofing workmanship which we have learned by

replacing many roofs in the city of Toronto.
We put all of our effort into promptly and professionally serving our customers' roof needs such as roof repair and roof replacement in Toronto with honest advice and by our Toronto roofing Contractors.