Roof Repairs and  Roof Replacement in Toronto
Quality Roofing Services ltd has refined an unimpeachable reputation for superb workmanship and results from many years of hard work and dedication, which has made us an expert in our field. We treat every project like it was our own home and strive to gain the best results because our clients aren't just clients, they're family. We work with all sorts of roof types, including flat roofs, shingle roof, cedar roof and steep inclines. We serve a variety of clients and properties in Toronto, including residential, industrial and commercial flat roofing.
No matter if your roof is flat or shingle, we will provide the roof repair services you need. Some of our most popular services are the installation of 2-ply Flat roof , Roof repairing and  roof replacing, as well as  roof maintenance. We use the latest tools and equipment to ensure the best quality.
Toronto Roofing Company–   We offers  Residential & industrial flat Roofing Services in Toronto, ON. ", we provide full roof replacement for flat roofs, shingle roofs, cedar roofs, metal roofs, slate roofs. Custom home roofs with experience in various roofing applications. We offer our services to those in need of re-roofing, flat roof, new construction and commercial roof installations as well. We Provide Assessments, Inspections & Consulting for all kind of roof replacement.
Our roofing services include: shingle Roof replacement, Flat roofing, slate roofing, cedar roofing, Flat roof repair, and more... 
If you're looking for a high quality roof replacement in Toronto look no further than Quality Roofing Services ltd. When your roof has been installed properly and is maintained it will last for at least 20 years.
shingle roof Replacement in Toronto, Ontario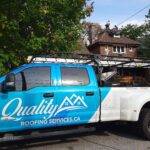 Quality Roofing Services Ltd offer roof repair services to help extend the lifespan of your roof and to prevent it from roof leakage or other types of roof damage that can compromise the quality of your home roof in Toronto.
Whenever you need a roof replacement or roof repair, Quality Roofing Services ltd is here to help!