Residential & Commercial Roofing Services – Toronto – GTA.
Are you looking for roofing services in Toronto? You are in the right place, because we at Quality Roofing Services ltd specializes in Shingle Roofing, Flat Roofing, Cedar Roofing, Metal Roofing, and some other type, for example when it come to shingle roof replacement i know how important its to use underlayment and ice shield, we always prep the roof before shingling and yes we care about your roof so we install metal vents, when it comes to workmanship we install the roof by manufacture code, plus even more we install the roof out of our knowledge for different designs.
We also do many different types of flat roof repairs in Toronto, for example 1 ply top & epdm or duradeck repairs as well as tar and gravel flat roof repairs or maybe you have 2 ply torch down  flat roof that needs repairs and replacement, We are Specialist in Torch down 2 ply flat roofing in Toronto, most of houses in Toronto Downtown, East York comes with shingle roof and flat roofs connected, so if you have one of them that need attention lets us know and we provide you a free roofing estimate.
Watch our work here: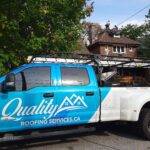 Roofing Company in Toronto |  | Roof Repair & Roof Replacement
A quality roof that has been installed by experienced roofers in Toronto should last many years, as long as it has been adequately maintained. However, we do provide residential roofing and commercial roofing in Toronto, the roof can be subject to wear and tear and damage once its above 15 years, roofing repair is required in some cases when there is wind damage or animal damage to your roof.
Quality Roofing Services Ltd offers  roof repair services in Toronto to help extend the lifespan of your roof and prevent it from leaking or suffering other types of roof damage that can compromise its integrity. in this case its good to know your roof condition which you can learn by a simple google search, maybe check some pictures of an old roof or just search when to replace an roof in Toronto, its important to place a proper request when you call a roofing company in Toronto, you have to know we deal with many competitors and spammers so please try to reach us by messaging and calling when you are sure the roof need to be changed just let us know and we will provide you a free roofing estimate in Toronto.
Roof Repairs & Roof Replacements in Toronto