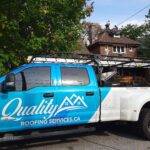 Building exterior vinyl siding
Vinyl siding is a kind of plastic product that is used for exterior siding. Presently, it is widely appreciated by the people to decorate their house. This kind of product is available in variety colors and also in different styles. We are one of the best roofers in Toronto and we help people to install vinyl siding on their house. Our professionals handle this kind of project very carefully and they complete every project within a fixed time.
Presently, most of the homeowners prefer choosing this kind of siding since it is available in affordable price and also available different colors and styles. Vinyl panel is made of polyvinyl chloride and it is seen that people who install vinyl siding get many advantages. So, let's know about those advantages:–
This kind of product does not rot.

It doesn't need any special maintenance. So, people don't need to maintain their siding.

This kind of product is long lasting so people don't need to repaint.

It has water resistant capability. So, it prevents users' house from the water.

It enhances the energy efficiency of the home. And thus, it saves users' money.

Due to being durable, it can last for a long time.

It prevents house from moisture damage.

This kind of siding provides an attractive look to the exterior part of the house.
We are one of the leading residential roofing companies in Toronto and we have been providing our services for over years. Our professionals are very experienced and efficient and they provide services with full of discretion. Since vinyl panels are available in a wide range of colors so people can choose this product as per their own choice. We use certified vinyl siding to meet our clients' expectation.
Since we believe in quality so we use advanced tools and technologies to make Vinyl siding installation project better. So, don't hesitate and get in touch with us as soon as possible.