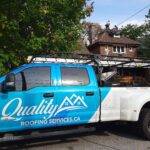 Why you need attic ventilation?
The importance of ventilation is important to know. This system helps to keep the temperature of the house isolated. If a house does not have proper ventilation then it increases the temperature and moisture level of the house. On the contrary, proper ventilation will keep the house cool and eventually prevent the breeding ground for mold and mildew. Unventilated attics can cause an increase in the temperature up to 140 degree which may curl or bend the shingles.
To avoid such conditions, installation of proper attic ventilation is necessary. With the best roofing contractors in Toronto, you can achieve best results for that. Our team of experts possesses modern and proper instrument for the installation of ventilation in any type of roof.
You will get lots of benefits by installing ventilation. Some of the benefits are:–
It saves electricity bill.

The ice that forms on the roof of the house during the winter season is lower due to proper ventilation.

It reduces the chances of health related issues caused by the molds and fungus born inside the attic.

It increases the lifespan of the shingles installed on the roof.
Cost of the ventilation installation
The cost of the ventilation installation on the roof varies because of many things. If you want to install the latest and modern one, it will cost you more than the traditional one. The size and area of the roof also affect the price of the ventilation installation. If you get the job done by the best Toronto roofing company, you will have the best results.