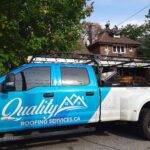 Best gutter cleaning service in Toronto – Eavestrough cleaning Toronto
Cleaning the eavestrough of your house in Toronto gets lot easier with Quality Roofing Services. This is a very important part in Toronto and it let the house owners save expensive roof repairs in Toronto. The main responsibility of the eavestrough is to control the water drainage system around the home.
You are at the right place for any roofing service in Toronto. We have the best professional roofing contractors in the city and they are eligible to save your house from big problems.
What's making news
A massive number of 500,000 people in North America get themselves injured every year by falling off the ladders. The accidents are generally found when people try to clean the eavestrough or high level window. If you engage the best roofing contractors in Toronto, you will not come across such an accident.
Reasons to do eavestrough cleaning
The gutter on the roofs gets blocked due to debris. It makes the drainage system to malfunction. The water on the roof does not get the proper way to pass and get jammed on the roof. If such thing happens, it will damage the shingles, roof and the structure of the walls. This is why the eavestrough must be cleaned from time to time.
It is seen that the fallen leaves of the tree are the main things that cause the jamming of the gutters. The excess water that is formed due to the blockage of the gutter causes a crack in the foundation of the building. It will be better to hire a professional and clean it properly. Leaving the cleaning work thinking it as a small task can cause you great damage later.
Not only that, the moist and dirty environment is the home of many harmful insects and worms. They also affect the healthy atmosphere of the house.
How we clean the eavestrough properly?
Our professional roofing contractors clean the eavestrough properly with our latest tools. After properly cleaning the gutters, we spray water into the gutter to check if there is still any or water lodging in the gutter. You can install the latest gutter system from us that protects the leaves from falling inside the gutter. The leaf guard gutter system will solve the problem of gutter jamming and water lodging instantly. All the debris will remain on the top of the gutter cover and the wind will blow them away from the gutter. There is no need to climb on the top of the roof every time to clean it.
How often you should clean the gutter in Toronto?
This will largely depend on the environment of your house. If there are more trees, you have to clean the gutter more frequently. If it's dozens of building in a single complex, with the help of commercial roofing company in Toronto like us, you can have the best results and the gutters working just fine.