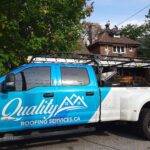 The Most Authentic Roof Design in Toronto
Irrespective or residential or commercial property, every building owner wants the best design for the roof. If you want best roof design for your house in Toronto, you have come to the right place. Quality Roofing Services offers the most reliable and reasonable roof design in Toronto, GTA and surrounding area.
The perfect design of the roof by Quality Roofing Services in Toronto let it comfortably deal with the various weather conditions and climate changes such as; rain, hail storm, snowfall and etc. Designing a roof is not a cakewalk. So many crucial things and details are to be taken and you don't need to worry when you are getting the job done with Quality Roofing Services. We have the best trained roofing contractors in Toronto to take care of the entire process.
Best commercial and residential roof design in Toronto
We are one of the most trusted and appreciated roofing service companies in Toronto, GTA and Mississauga area and we perform the best design for roofs. First, we will calculate the total area of the roof and the materials it is going to require for the roof. If you have any plan or special demand that you want on your roof, feel free to tell us about it. Customer satisfaction is our motto so we design the entire roof, according to our customer's preference.
After proper calculation, the second thing to go for is the structure of the roof. When all the structures are made and installed properly, then we go for the deck and then the shingles and so on. All our working process is fully transparent to our customers. Feel free to tell us about any kinds of changes that you want on your roof design at any point of the job. But, it is strongly recommended that you clear all things before the installing of the structures as it becomes very difficult to change anything after that.
Benefits of roof designing
Designing the roof is truly adding value to your house but only when the job is accomplished with professional roofing contractors and roofers. It not just beautifies the roof of the house, also it turns the roof stronger and prepared for any climate changes. Just hire us and see the difference all by yourself.