Mississauga Roofers | Roofing Company in Mississauga | Roof Repair & Replacement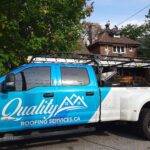 Looking for roof repairs and replacement services in Mississauga, Ontario? Look no further because Quality Roofing Services is here at your service. We offer affordable, quality roofs for your home and office property. We serve both residential and commercial properties in Mississauga.
Our team of experienced roofers are ready to repair, replace & install new Shingled Roofs, Flat Roofs, Cedar Roofs, Metal Roofs, TPO Roofs, EPDM Roofs, Tar Roofs Gravel Roofs and Torch Down Roofs. All you need to do is to give us a call.
Continue reading Mississauga Roofers 🥇 Roofing Company in Mississauga | Roof Repair and Replacement