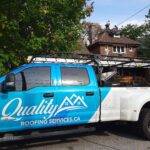 Roof Replacement company in Toronto
Quality Roofing Services has developed an impeccable reputation for quality workmanship and results through 15 years of hard work and dedication in our field of  roof replacement expertise.
With every roof replacement we take on, we always strive to achieve the very best results for all of our valued clients and provide them a long lasting roof whether its a flat roof replacement or shingle roof replacement.
We work with all sorts of various roof types, including residential roofing, commercial roofing and industrial roofing.
Whether you need shingle roofing or flat roofing, we provide roof repair services for every type of roofing in Toronto so if you have a cedar roofing need or slat roofing needed, just give us a call and we will take a look at it within one or 2 days.
Residential roofing
Whether you need a new roof or the repair of your existing one, Quality Roofing Services provides all-encompassing repair and installation services for all types of residential properties. We aim to keep roofing materials out of landfills by restoring, repairing, and maintaining your present roof. Prior to installing a new roof, it's important to determine whether your current roof can be repaired and maintained before opting for a new one.
Our residential roofing services include:
•   Flat roofing
•   Shingles roofing
•   Cedar roofing
•   Slate roofing
•   Roof replace services
•   Roof repair in Toronto
Commercial Roofing
Quality Roofing Services ltd provides commercial roofing services in Toronto and the GTA. All of our commercial roofing are done using the highest-quality roofers in Toronto.
Commercial roofing and industrial roofing requires only the most robust materials, and the best equipment, tools, and technical roofing expertise for a job to be well done.
At Quality Roofing Services ltd, you can be sure that you'll get nothing less than expected from the best roofers in Toronto for your commercial roofing needs or industrial roofing needs.
Commercial buildings typically feature flat roofs, which have developed a reputation of being very expensive to repair, but such is not the case. With Quality Roofing Services, you'll benefit from top-notch Flat roofing repair services. We provide commercial flat roof replacement  and roof repair services in Toronto and GTA.