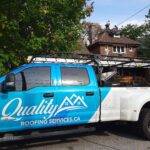 Roof Repair Company & Contractors Toronto
Quality Roofing Services has developed an impeccable reputation for quality workmanship and results through years of hard work and dedication in our field of expertise. With every project we take on, we always strive to achieve the very best results for all of our valued clients. We work with all sorts of various roof types, including flat roofs and steep inclines. We service a range of clients and properties, including residential, commercial, and industrial buildings.
Whether you have an inclined roof or flat one, we provide roof repair services for every type of roof. Some of our popular roofing services are the installation of roof materials, repairing it, replacing it, and maintenance of the roof. We use the latest tools and equipment to perform our project effectively and safely.
Roofing Services Provided
Our roofing services are far-reaching, and include the following:
RESIDENTIAL ROOFING
Whether you need a new roof or the repair of your existing one, Quality Roofing Services provides all-encompassing repair and installation services for all types of residential properties. We aim to keep roofing materials out of landfills by restoring, repairing, and maintaining your present roof. Prior to installing a new roof, it's important to determine whether your current roof can be repaired and maintained before opting for a new one.
Our residential roofing services include:
•   Flat roof
•   Shingles
•   Cedar
•   Decking
•   Winter Services
•   Ice Dams
•   Attic Ventilation
•   Eavestrough Cleaning
•   Gutter Cleaning
•   Authentic Roof Design
COMMERCIAL ROOFING
Quality Roofing Services provides professional roofing services for commercial purposes all over Toronto and the GTA. All of our commercial projects are done using the highest-quality roofing materials. Commerical and industrial properties require only the most robust materials, and the best equipment, tools, and technical expertise for a job well done. At Quality Roofing Services, you can be sure that you'll get nothing less than the best for your commercial or industrial building.
Commercial buildings typically feature flat roofs, which have developed a reputation of being very expensive to repair, but such is not the case. With Quality Roofing Services, you'll benefit from top-notch roofing repair services without breaking the bank. We provide commercial flat top roof repair services at affordable rates. There is simply no need to replace the entire roof just because of some damage to a portion of it. Flat tops are very different than inclined roofs, and as such, we use a different method to repair them. We specialize in Shingled Roof, Flat Roofs, Cedar Roofs, Metal Roofs, TPO Roofs, EPDM Roofs, Tar Roofs Gravel Roofs, Torch Down Roofs.
BUILDING EXTERIORS
Our building exterior services include:
•   Copper
•   Aluminium Sliding
•   Vinyl Siding
•   Eavestrough
•   Soffit Fascia
ROOF REPAIRS
A quality roof that has been installed appropriately by experienced professionals should last many years, as long as it has been adequately maintained. However, just like most other components of residential and commercial properties, the roof can be subject to wear and tear and damage. In cases like these, roofing repair is required.
Quality Roofing Services offers repair services to help extend the lifespan of your roof and prevent it from leaking or suffering other types of damage that can compromise its integrity.
Whatever your roofing requirements, Quality Roofing Services is here to help!